Meet people who tell you the truth upfront - The Run or Stay Dating App does just that!
The Run or Stay Dating App is changing perspectives, one stay at home
Washington, D.C , 05 Dec 2022 (Viralpressreleases.com) - Run or Stay is the hilariously relatable, online dating app, where people tell you their imperfections upfront & you decide to either "Run" or "Stay". Originating in the DMV, the Run or Stay App has created its own lane, within the current dating industry. Run or Stay was created for people who realize that "perfect is exhausting". You will not find the typical dating profile on the app. Instead, members post: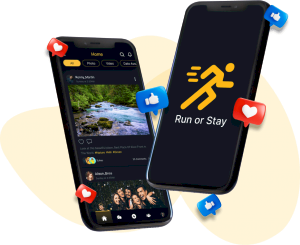 I'm always late.
I can't cook.
My idea of 'turning up' is a good meal and a nap.
If I'm not out of the house by 8pm, I'm not going.
All my friends & family will know our business! LOL
The concept is genius! You tell your truth, to see who your imperfections are perfect for.
Run or Stay is not "just" a Dating app. The app has a members-only social media feature too. Members post about relationships, dating, breakups, makeup and more. When you join RunOrStay.com, you can meet people who will tell you who they are, what they want & most importantly what they don't want.
Media Contacts
Category : People & Culture
Tags : Dating , Single , Speed dating , dating advice , single mom , single dad , dating app , free dating app
###
Log in or create a new account to comment