Dedham, Massachusetts , 04 Oct 2022 (Viralpressreleases.com) -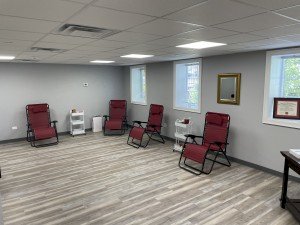 AcuBoston.com will be opening the doors of its second location on October 15, 2022, and invites the public to celebrate and experience the acupuncture clinic's signature Community Acupuncture while supporting Comfort Zone Camp, the nation's leading bereavement camp for children aged 7-17.
The event will start at noon at AcuBoston, 16 Milton Street, Dedham. The suggested donation for community acupuncture treatment is $40. Participants who give $80-100 will receive community acupuncture, an AcuBoston t-shirt, herbal tea, and other acupuncture goodies. Food and beverages will also be available.
"We are so excited to bring community acupuncture to the Dedham community. Community-style acupuncture is a wonderful alternative for the acupuncture-curious or patients seeking a more affordable acupuncture option," said AcuBoston's founder, Polina Shneyderman. "Patients meet in small groups of four or five, sit back and relax in zero-gravity chairs, and enjoy a peaceful healing space."
In keeping with the healing theme, AcuBoston will donate all proceeds from the grand opening to support Comfort Zone's weekend camp programming in Massachusetts.
"We are deeply grateful to the AcuBoston team for their generosity and for providing continued opportunities for children to grieve, heal, and grow," said Joe Harrold, Regional Board Member of Comfort Zone Camp.
About AcuBoston
Founded in 2020, AcuBoston.com provides acupuncture and East Asian herbal medicine to patients in the Greater Boston area.