New Delhi, India , 27 Sep 2022 (Viralpressreleases.com) -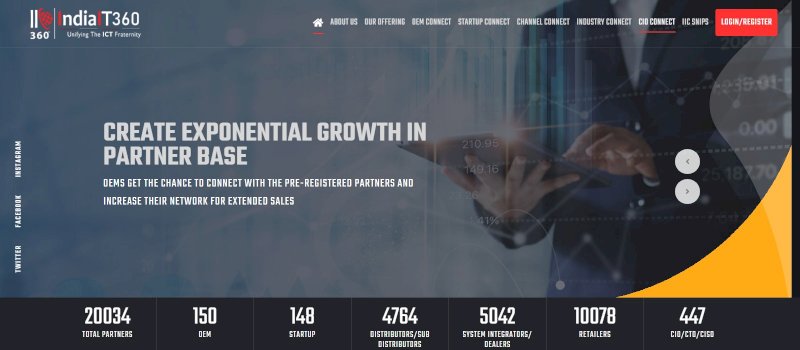 India's leading B2B Digital Platform connecting the entire ICT fraternity has yet achieved another milestone, 20000+ Registered Channel Partners. The unique digital platform enables the entire fraternity to unlock immense opportunities by proving that great possibilities happen when you connect with the right people and build a strong network!
IndiaIT360 is elated to see such a positive response from the ICT industry and to date, it has built a strong network of 20K Registered Channel Partners, which makes it the biggest B2B ICT fraternity. IndiaIT360 provides its partners an incredible opportunity to build an e-catalog hassle-free and promote their latest IT products/ services/ solutions to a wider network i.e. to the tech innovators, OEMs, Corporates/ SMEs, & Startups.
We, at IndiaIT360, bring great value to every partner in the form of the latest information, operational excellence, & above all, profitability. With 150+ OEMs, 4750+ distributors/sub-distributors, 5030+ SI partners/dealers, 10060+ retailers, and 445+ CIOs, IndiaIT360 has become one of the biggest partners ecosystems across India with the sole aim of bringing the entire ICT fraternity together on one digital platform.
After the breathtaking success of Startup Connect, IndiaIT360 has come up with its latest offering i.e. Industry Connect for all the Corporates/ SMEs to help them scout for the best information technology (IT) products, services, or solutions from more than 20K Registered Channel Partners at the most competitive prices.
"By getting registered with IndiaIT360, Corporates/SMEs can experience BIG savings on their latest IT purchases for their organization," said Mr. Alok Gupta (Managing Director, IndiaIT360 Solutions Pvt. Ltd).
Industry Connect also offers SMEs/Corporates an opportunity to associate with CIOs/CISOs inclined to provide consultancy to develop a sound IT setup in their organization, hence keeping them in tune with the changing times and becoming digitally transformed.
About IndiaIT360
IndiaIT360 is a unique B2B digital platform enabling India's IT network to become one unified community, benefiting the entire ICT fraternity inclusive of OEMs (Original Equipment Manufacturers), Startups, Channel Partners, CIOs, or Corporates/SMEs. In addition to CIO Connect, Channel Connect, OEM Connect, Industry Connect, & Startup Connect, IIC Snips is another product that benefits the entire ICT ecosystem. It is a news aggregator app that provides industry-specific news by aggregating them from multiple news portals to help the fraternity have easy access to tech news through a single app.
IndiaIT360 Solutions Pvt. Ltd.
marketing@indiait360.com
8800114822
408, Siddhartha Building 96, Nehru Place