Melbourne, Australia , 17 Nov 2023 (Viralpressreleases.com) - In anticipation of the upcoming Black Friday extravaganza, Mobile Guru, the premier online destination for buying used phones and snagging top-notch refurbished devices, is thrilled to announce exclusive discounts that are bound to make tech enthusiasts and budget-savvy shoppers alike rejoice.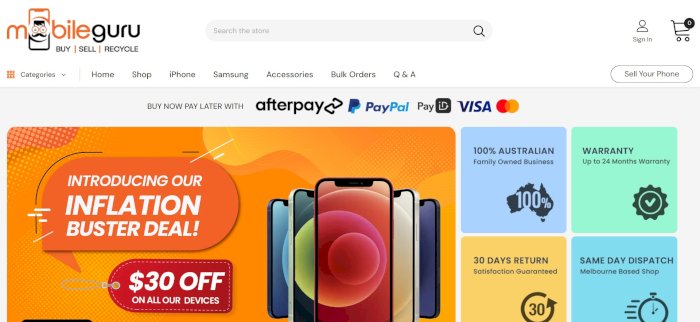 Black Friday, Big Savings
This Black Friday, Mobile Guru is making waves with irresistible deals tailored to suit every budget. For orders totalling $1000 and above, customers can enjoy a whopping $50 discount using the code BLACKFRIDAYDEAL at checkout. But that's not all; even if your order falls below $1000, fret not! Mobile Guru is extending a generous $30 discount to ensure that everyone gets a slice of the Black Friday savings pie.
Unparalleled Quality, Unmatched Prices
At Mobile Guru, quality meets affordability. With a commitment to providing top-tier refurbished phones, our customers can rest assured that they are investing in devices that look and perform like new. The Black Friday deals are a testament to our dedication to making cutting-edge technology accessible to all.
Key Highlights for Tech Enthusiasts:
1. Extensive Inventory
Mobile Guru boasts an extensive inventory of used and refurbished phones, catering to a wide range of brands and models. From the latest flagship devices to budget-friendly options, there's something for everyone.
2. Sustainable Shopping
By choosing a refurbished phone from Mobile Guru, customers contribute to sustainable practices by giving a second life to electronic devices. Reduce electronic waste without compromising on performance or style.
3. Hassle-Free Shopping Experience
Our user-friendly website ensures a seamless shopping experience. Effortlessly browse through our catalogue, apply discounts at checkout, and have your chosen device delivered to your doorstep with just a few clicks.
Unlock the Savings: How to Redeem Black Friday Deals
Visit Mobile Guru's website and explore our vast collection of refurbished phones.

Select your desired device and add it to your cart.

At checkout, enter the coupon code BLACKFRIDAYDEAL to unlock the exclusive discounts.

Witness the magic as your total amount gets a significant Black Friday makeover!
Act Fast - Limited Stock
Black Friday deals this good don't last forever. Mobile Guru urges customers to act swiftly and secure their favourite devices before stocks run out. With the holiday season around the corner, now is the perfect time to treat yourself or surprise a loved one with a high-quality, budget-friendly smartphone.
Don't miss out on Mobile Guru's Black Friday extravaganza. Visit us at www.mobileguru.com.au and redefine your smartphone experience without breaking the bank. Happy shopping!
About Mobile Guru
Mobile Guru - a licensed online portal to buy used mobile phones and sell refurbished ones acros Australia.
Media Contact
For media enquiries, please contact:
Ravin Goswami
Chief Executive Officer (CEO)
Mobile Guru
Email: hello@mobileguru.com.au