Foster City, California , 15 Nov 2023 (Viralpressreleases.com) - Today marks a significant milestone for startup ecosystems worldwide with the launch of Funnl, a cutting-edge B2B lead generation and engagement platform designed to transform the sales lead acquisition process. Recognizing the unique challenges faced by startups and small businesses in generating qualified sales leads without a dedicated sales team, Funnl.ai has introduced a solution that assures not only high-quality leads but also ease and rapidity of use.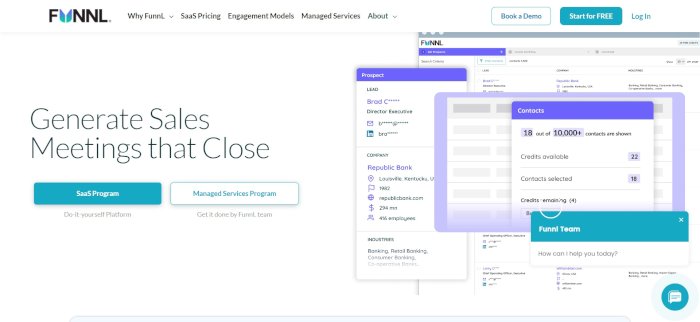 Funnl.ai is pioneering with its triple-tiered approach to lead generation. Initially, prospects are curated through a combination of advanced AI algorithms and meticulous manual filtering. This ensures that only the most relevant and potential leads are passed on to the next stage. Following this, Funnl leverages the power of AI, notably with ChatGPT-assisted tools, to create sophisticated and efficient workflows. These are integral in crafting personalized and impactful outreach campaigns. Finally, the launch of these campaigns is backed by robust real-time analytics, allowing for comprehensive tracking and optimization of lead engagement.
What truly sets Funnl.ai apart is its unwavering commitment to data accuracy and quality. In a market often compromised by unreliable data, Funnl.ai offers a 95% data accuracy guarantee, backed by human verification to ensure that the leads are not just numerous but also genuinely qualified. This is particularly beneficial for startups and small businesses that may lack the resources to sift through copious amounts of data.
Speaking of this unique tool, Sanju Pillai, CEO of MoovingDneedle said, "Funnl.ai's competitive edge is further sharpened when juxtaposed with industry giants such as Zoominfo and HubSpot. Unlike its competitors, Funnl.ai provides easy-to-use access to a meticulously curated contact list of B2B decision-makers actively engaged in live campaigns. And it does so at a fraction of the cost — a mere $69 per month grants access to 35,000 contacts per year."
This platform is a testament to Funnl's commitment to supporting the growth of startups and small businesses, empowering them to scale their sales efforts from the get-go. With Funnl.ai, the promise is not just in the delivery of leads but in providing the tools and data to convert these leads into lasting business relationships.