Frisky Beaver first Canadian Winery to introduce Paper Bottle
Norfolk County, Ontario - Frisky Beaver today introduces Dam Good Red and Dam Good White, Ontario VQA blends packaged in a new sustainable bottle. Frisky Beaver is the first Canadian winery to introduce paper bottle

Press release published 24 Aug by Frisky Beaver | Smoke&Gamble
Norfolk County, Ontario , 24 Aug 2023 (Viralpressreleases.com) - New fully recyclable wine bottle made from 94% recyclable paperboard, 5 times lighter than glass with a carbon footprint up to 6 times lower.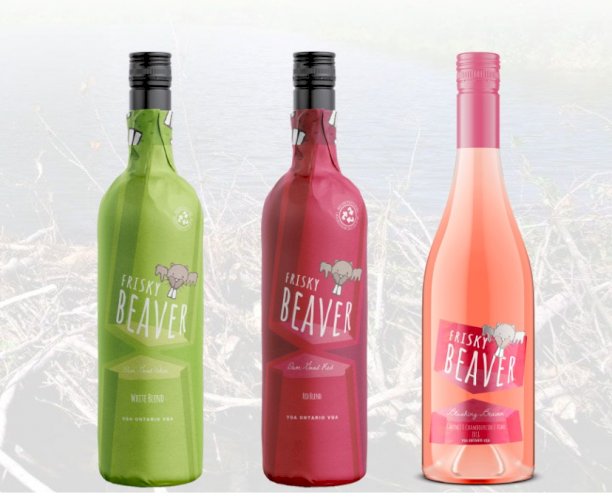 Frisky Beaver is the first Canadian winery to introduce delicious wines in a paper bottle format.
What's so special about it?
- Fully Recyclable
- 5 Times Lighter than Glass
- Carbon Footprint up to 6 Times Lower
- Made from 94% Recycled Paperboard
- Up To 77% Less Plastic than a Plastic Bottle
- No More Breakage!
Winemaker Adria Howe says that the Cabernet/Merlot and Sauv Blanc/Riesling/Chardonnay blends are magnificently matched with the carefree nature of the Frisky Beaver wine lineup.
For more information please visit www.FriskyWine.com for images and specifications.
Dam Good Red and Dam Good White are available for purchase at www.FriskyBeaver.ca or at the winery located at 455 Radical Road, Norfolk County, Ontario.
Frisky Beaver Winery Contact: Adria Howe info@fbsg.ca
About Frisky Beaver | Smoke&Gamble:
Located near Port Dover in Norfolk County, Smoke&Gamble | Frisky Beaver is home to great wines and great friends. Our winery is has three fantastic wines under one roof.
Frisky Beaver: It started as a dream... Then some wine drinking, serious thoughts, more wine, and some outlandish plans. What were we thinking? After learning that we can't get there from here, we naturally had some more wine and voilà!
The result is Frisky Beaver. 100% Canadian - made from 100% Canadian grapes. Where else would you expect your Beaver to be from? We pledge to provide magnificent wines that you would be proud to share and enjoy with friends.
Smoke&Gamble: What makes Smoke&Gamble one of Norfolk's most exciting wines? Age... time in the barrel. More than expensive decoration, barrel aging contributes structure, body and tannin, softening the wine to form a richer, more complex flavour. Barrel aging brings out the pepper and aromas of a newly opened cigar box with burning harvest leaves.
Welcome to our Private Club.
Crappy Wine: So what's the story here? Well we had a bunch of wine we didn't know what to do with. Quite frankly, we don't even really remember what type of wine it was.
Luckily for you and us, it doesn't really matter. All that matters is that it always pairs well with food, pairs well without food, and also pairs well with more Crappy Wine!
Visit Us:
We're the fun winery! Located near Port Dover, home to sandy beaches, artisan shops, acclaimed restaurants, urban cafes, and charming B&B's.
As our guest you'll be greeted by friendly and knowledgeable hosts who will introduce you to our delicious wines and beautiful winery, surrounded by captivating country life.
Frisky Beaver - the FUN Winery!
Media Contacts
Dam Good Red and Dam Good White are available for purchase at www.FriskyBeaver.ca or at the winery located at 455 Radical Road, Norfolk County, Ontario.

Frisky Beaver MEDIA Contact: Jocelyn Kohli jocelyn@fbsg.ca
Category : Food & Drink, Agriculture & Forestry
Tags : wine, winery, paper bottle
###
Log in or create a new account to comment