Enjoy a redefined essence with Prog-Rock with North Carolina Music Band Apollo Craven
Get through an exciting progressive rock music journey with Apollo Craven, a North Carolina-based music band that can win the hearts of all kinds of listeners.
Winston-Salem, North Carolina , 17 Jul 2023 (Viralpressreleases.com) - Veteran progressive rock band from North Carolina, Apollo Craven knows how to set the bar high with their unique musical creations. This versatile band is best known for offering a unique prog-rock essence that paved a new creative path in the music scene. Their timeless creation 'Sessions in the Sun' is one of the greatest tracks that offer their signature essence of witty and soulful lyrics along with high-energy music. The tracks are brilliantly made and do fail to captivate the listeners, regardless of their preferences. The band has redefined the essence of progressive rock music and added more creative elements to it. As a result, their musical arsenal is full of diversity even though it maintains the core theme of prog-rock.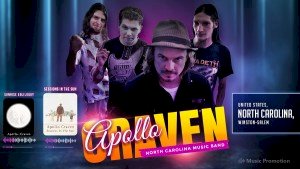 Hailing from Winston-Salem, this highly talented North Carolina Music Band has dropped many musical projects till now that prove their unified strength as a band along with their sheer independent skills. There is a track named 'Sunrise Soliloquy,' that offers a different soundscape along with intriguing lyrics. The song is around 4 minutes long and the artists have perfectly utilized this time frame to offer something new and unique. The songs offered by this artist offer an exciting combination of lyrical approach and sound design.
Previously, this band has dropped many musical projects such as, 'Coalition Queen', 'Beautiful Girl', 'Starseeds', 'High Horse', etc many other tracks show their proficiency in the field and portray the prolific musicianship of each member of the band. With their consistent creative flow, skills, and passion; the band is gaining on its musical journey at full throttle. Apollo Craven is looking forward drop more unique musical projects in the coming days while the listeners eagerly wait for it. Follow this band on SoundCloud to check out their musical works
Media Contacts
Music Promotion Club
info@musicpromotion.club
Category : Entertain­ment & Media
Tags : Apollo Craven , North Carolina Music Band , Soundcloud Music , Alternative Rock
###
Log in or create a new account to comment