New York City, New York , 13 Jun 2023 (Viralpressreleases.com) - Presented at the Iconic House of Yes theater July 13 & July 14th, 2023 This new episode of Nowhere marks Hybrid Movement Company's first opportunity to present this concept in a theatrical venue. NOWHERE is distinguished by its bold visuals and contemporary aesthetic that highlight spectacular acts performed by artists at the top of their game.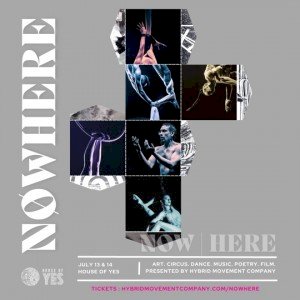 About NOW|HERE
A contemporary collage in motion reflecting perceptions on our own humanity.As determined as ever to inspire us, Hybrid Movement Company in collaboration with Jason Lindner, (who composed the keys for David Bowie's epic Blackstar album) bring us a show combining poetry, live music, dance, epic visuals and high-flying acrobatics.NOW|HERE is an episodic work which launched as a livestream during the Covid 19 Lockdown. With each vignette, a collage in motion takes shape, forming a dynamic mosaic unveiling the paradoxes of our times and summoning our collective potential.
Driven by the spirit of collaboration, and despite seemingly separate personal journeys, the characters share their voices, reenact their memories, and eventually find hope in uniting to rebuild a better future.
NOW|HERE plunges the audience into a universe of a thousand and one images, expresses raw human emotion, reminds us of the power of friendship, the hope we need in spite of everything and the power of healing.
Box OfficeHybrid Movement Company's NOW|HERE is presented at the House of Yes at 2 Wykoff St. Brooklyn, NY on July 13th and 14th Tickets are available online for Thursday July 13th.
About Hybrid Movement Company
Hybrid Movement Company uses live performance as a transformative vehicle to inspire our human family and enrich our community. Founded by Françoise Voranger in 2015, the Brooklyn based ensemble made its premiere at Lincoln Center and has since been presented at some of the most unique venues across the globe. HMC is inspired by the crossing of cultures and is rooted in collaboration. "One of countries leading Contemporary Circus Companies" New York Times "A blast in the heart of the arts!"