Seoul, South Korea , 01 Jun 2023 (Viralpressreleases.com) - On May 5, The Children's Day in Korea and Japan, was released a non-fiction book by Ralie Alita in which the K-pop star Baekhyun from EXO is featured as one of 'three contemporary Chosen Ones of Destiny'. The book is titled 'The Children of the Day: born to make history' and the South Korean singer is naturally addressed in it as The White Wizard of the Light. This by-name for him was chosen not only after his superpower Light in EXO's concept but also because of the actual brightness and lightness of his character, the storyteller Ralie Alita explains.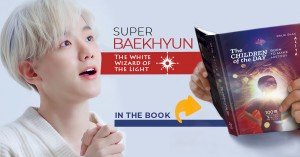 Together with the figure-skater Yuzuru Hanyu from Japan, also named The Warrior with Wings, and the innovator/ecologist Boyan Slat from the Netherlands, The Champion of the Planet, Baekhyun was chosen to serve as an illustration of some essential qualities and characteristics of the Children of the Day scattered across the globe and destined to make history. The three young men are brought forth as visible examples of the 'superheroes of the new era', who are conquering themselves and are bringing joy to the world, Alita said.
The book is dedicated to the 100th anniversary of the birth of The Teacher of Wisdom, Vaklush, who 'remained forever' with us at the age of 90 in 2013. Vaklush was a theologian by education and socially/politically active at the same time. The Bulgarian Minister of Health in the government of Ivan Kostov, d-r Semerdzhiev, who knew Vaklush closely and had several times presented books by him, said in a recent interview for "8" magazine: 'I always addressed him as Teacher. A person who draws down knowledge from the Causal World is even more than a teacher. In his Uncovenanted Testament, this stands out very clearly. Whoever reads this book, will understand what I have in mind.'
The President of Bulgaria (1997–2002) Petar Stoyanov and many other renowned public figures honoured the memory of the Bulgarian theologian and university lecturer in a documentary film about him, pre-premiered on January 7-th, 2023: the birthday of Vaklush. The designation 'Children of the Day' was officially introduced by the theologian in 1994 as a term of address for those destined to realize the worldview of Wisdom today and in future times.
'The Children of the Day truly have this authority vested in them – not to acknowledge the Night. This means that the cloudy obscurity of this evolutionary rung has now been outgrown,' said the wise man in one of his numerous speeches.
The release date, May 5, of the book by Ralie Alita with Baekhyun as one of the main characters in it 'was not deliberately chosen to align with The Children's Day in Korea and Japan, but was gladly appreciated as a special sign,' the author said. 'And there is a little girl on the book's front cover as a symbol and a collective image of the superheroes of the future, i.e. of the Children of the Day, in order to be transmitted the idea that it's time for our soul with its inner superpowers to rise and finally shine.'
The last chapter of the book includes the legend about the first Korean king Bak Bulgeunae and was meant to bring attention to the interconnectedness of the nations around the world