Hong Kong , 23 May 2023 (Viralpressreleases.com) - Lithium Americas Corp. (TSX: LAC) (NYSE: LAC) ("Lithium Americas" or the "Company") is pleased to announce that its Board of Directors has unanimously approved the execution of an arrangement agreement providing for the reorganization of the Company that will result in the separation of its North American and Argentine business units into two independent public companies (the "Separation").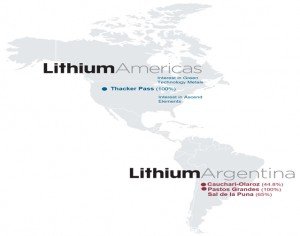 The Separation will establish an Argentina-focused lithium company ("Lithium Argentina") and a North America-focused lithium company ("Lithium Americas (NewCo)"). Lithium Argentina will own Lithium Americas' current interest in its Argentina lithium assets, including the 44.8% interest in Caucharí-Olaroz, the 100%-owned Pastos Grandes project, and the 65% interest in the Sal de la Puna project. Lithium Americas (NewCo) will own the 100%-owned Thacker Pass lithium project in Humboldt County, Nevada, as well as the Company's investments in Green Technology Metals Limited (ASX:GT1) and Ascend Elements, Inc.
KEY BENEFITS OF THE SEPARATION
The Separation is expected to enhance the long-term prospects for each of the business units and provide a number of benefits, including, among others:
Provide each company with a sharper business and strategic focus, enabling the separate businesses to better attract, retain and motivate key employees.
Enable each business to pursue its independent and unique growth opportunities.
Lithium Argentina: Ramp-up of Caucharí-Olaroz, the pursuit of Stage 2 expansion and further growth with the significant resource, along with advancement and construction decision regarding Pastos Grandes and potential upside at Sal de la Puna.
Lithium Americas (NewCo): Construction and production of Phase 1 of Thacker Pass, and planning and execution of Phase 2 and beyond.
Improve the market's ability to evaluate each business and value it against its comparables, providing shareholders with enhanced value and flexibility through independent investment opportunities.
Provide each company with independent access to capital, resulting in more tailored capital allocation practices, thereby allowing each company to expand deeper into its specific domain to maximize the value of its resources.
Expected to be executed on a tax-deferred basis with tax rulings and to have minimal dis-synergies.
"With this approval by the Board of Directors, we are excited to clear a key milestone in moving forward to separate Lithium Americas into two distinct leading lithium companies," said Jonathan Evans, President and CEO of Lithium Americas. "We look forward to the value that can be created for shareholders through Lithium Americas (NewCo)'s unique position and the development of one of the largest lithium resources in the U.S., as well as the value generated through Lithium Argentina's near-term production portfolio with a significant growth pipeline from two high-quality projects."