Petaling Jaya, Selangor , 17 May 2023 (Viralpressreleases.com) - A simple cup of tea is never just a simple cup of tea when it comes to Tea Bird Tea. Organically grown, the original loose leaf form is maintained within the teabag to ensure there is as little processing as possible. Even the teabags are different - cornstarch pyramid teabags, sealed via heat pressing means there are no teabag strings, no metal staples, no ink-branded paper tags, and no toxic glue seeping into your daily brew.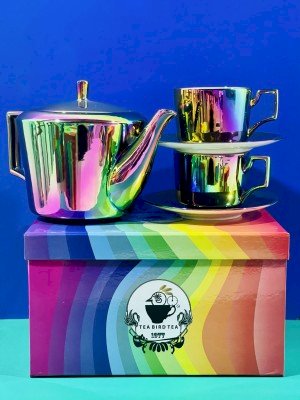 Ensuring the flavor is as close to the original fresh ingredients as possible is essential to the quality, aroma, and taste that Tea Bird Tea wants you to experience every time you pop open a tin. A feast for sore eyes the striking packaging has been hand drawn by founder Ashleigh Cotterill, inspired by the Malaysian Jungle and its birds of course.Its founder, Northern Ireland-born Ashleigh Cotterill says "Tea Bird Tea has a range of beverages that target day-to-day needs Morning, Noon & Night. Tea has been used as a natural daily beverage for hundreds of years, using only the natural health benefits of the available ingredients relevant to each country throughout history.Our Tea Bird Tea range will compliment your daily vibe throughout the day supporting digestion in the morning, energizing in the afternoon & restful sleep at night. "Tea Bird Tea prides itself on its handpicked teas, organically grown on the sunny slopes of India, Sri Lanka, China, and Malaysia.
Our Values and the Importance of Running a sustainable business Tea Bird Tea runs a sustainable business by supporting the social enterprise Fugeelah as part of its ongoingbusiness structure. Tea Bird is on top of its game when it comes to reusable packaging and business practices.All its tea tins are reusable and customers can easily purchase refills in-store & online.In addition, Tea Bird Tea's gifting range also offers solutions that can be reused in a second capacity, whether its a tea case turning into a cosmetics case or a tea tin that can be repurposed as a pencil case we take our Re-purpose, Reuse, Refill values seriously & deliver them with flair and style.Tea Bird Tea & Fugee.Org ran a successful art event together in January called Art Rocks Us showcasing student art, talented Afghan artists, and local artists to raise money for the school - it was our largest event to date and shone a light on education & refugees and how art can bring businesses together raising over 120k.
10% of Tea Bird's tea sales as well as our new collaborative designer corporate gifting range goes to Fugeelah which is part of Fugee.Org. In addition, they have launched a new F&B pack size of 100 teabags & 200 teabags range together called Fugee Dream School Tea to help support the running costs of its school for refugees.So far over RM66,000 /USD 14,789 has been given by the brand to support Fugeelah sorts Tea Bird Tea is currently available in-store in Malaysia at Four Seasons Atlas Gourmet Market, Cold Storage KLCC, Mercato Pavilion, Mercato Solaris, Mercato Great Eastern, Prince Court Medical Centre as well as Lilit stores in Bangsar and KL East.
Tea bird tea is also currently in the works with business expansions in Singapore and London Tea Bird Tea and its teaware products are also available for international purchase online at the website.