, 13 May 2023 (Viralpressreleases.com) - [Moscow , 13-05-23] – SLTL Group, a leading global provider of laser cutting and engraving solutions, is excited to announce its participation in Metalloobrabotka 2023, one of the most prestigious international exhibitions in the metalworking industry.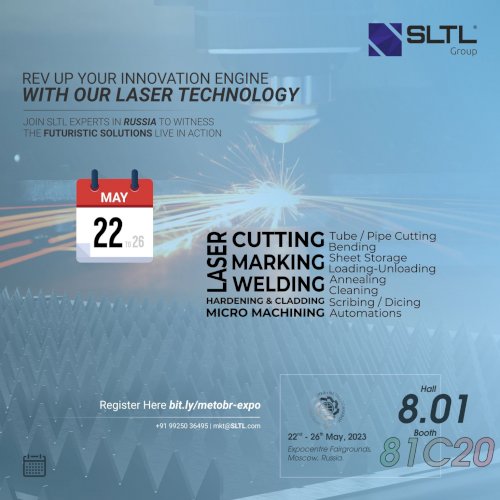 The event will take place in Moscow, Russia, from 22nd -26th May 2023. As part of its showcase, SLTL Group will unveil its highly anticipated upgraded Integrex -High Power CNC Fiber Laser Cutting Machine, demonstrating its commitment to innovation and delivering cutting-edge solutions to the market.
Metalloobrabotka serves as a crucial platform for industry professionals to explore the latest advancements in metalworking technologies and witness firsthand the capabilities of leading manufacturers. SLTL Group is honored to be a part of this renowned event and aims to captivate visitors with its advanced laser cutting machine.
At the exhibition, SLTL Group will highlight the enhanced features and capabilities of its upgraded High Power CNC Fiber Laser Cutting Machine. Equipped with state-of-the-art technology, this machine boasts exceptional precision, speed, and efficiency, enabling manufacturers to achieve superior results in their metal fabrication processes. With its upgraded power output, the laser cutting machine offers increased versatility and can handle a wide range of materials, including stainless steel, aluminum, brass, copper, and more.
SLTL Group's High Power CNC Fiber Laser Cutting Machine showcases several notable advancements, including an improved cutting head design for enhanced accuracy and a user-friendly interface for simplified operation. The machine's intelligent automation features, such as automatic nozzle changing and material detection, streamline production processes, saving valuable time and resources.
"We are thrilled to participate in Metalloobrabotka 2023 and unveil our upgraded High Power CNC Fiber Laser Cutting Machine," said Mr. Maulik Patel, CEO of SLTL Group. "This cutting-edge solution embodies our commitment to providing our customers with the latest technological advancements that empower them to achieve unparalleled results in their metal fabrication operations. We invite all attendees to visit our booth to witness the machine's exceptional performance and learn more about its transformative capabilities."
Visitors to the SLTL Group booth at Metalloobrabotka 2023 will have the opportunity to engage with the company's experienced team of experts and gain valuable insights into the machine's features, applications, and potential benefits for their specific manufacturing requirements. SLTL Group representatives will be available to address queries, offer personalized demonstrations, and discuss potential collaborations.
Metalloobrabotka 2023 attendees are encouraged to visit SLTL Group at Hall No:8.01, Booth: 81C20, Venue: Expocentre Fairgrounds, Moscow, Russia to explore the upgraded High Power CNC Fiber Laser Cutting Machine and experience first-hand the revolutionary solutions that are reshaping the metalworking industry.
For more information about SLTL Group and its innovative laser cutting and engraving solutions, please visit https://bit.ly/metobr-expo.
About SLTL Group:
SLTL Group is a globally renowned provider of laser cutting and engraving solutions, serving diverse industries such as manufacturing, automotive, aerospace, electronics, and more. With a commitment to innovation and customer satisfaction, SLTL Group consistently delivers cutting-edge laser technologies that empower businesses to achieve precision, efficiency, and profitability. Through its comprehensive product portfolio, including laser cutting machines, laser marking systems, and laser engraving machines, SLTL Group has established itself as a trusted partner for businesses seeking advanced solutions in the metalworking industry.
Media Contact:
Alex
Customer Relationship manager
Mkt@sltl.com+91-9925036495