Ruzz Guitar's Blues Revue with Brian Fahey at the Aeolian Hall September 28th 2023
Ruzz Guitar's Blues Revue 2023 Canada

Press release published 08 May by Concert First Entertainment
London, Ontario, Toronto Ontario, Hamilton Ontario, Windsor Ontario , 08 May 2023 (Viralpressreleases.com) - Experience an evening of blues with Ruzz Guitar's Blues Revue and drummer Brian Fahey, live at the Aeolian Hall in London, Ontario on September 28th, 2023.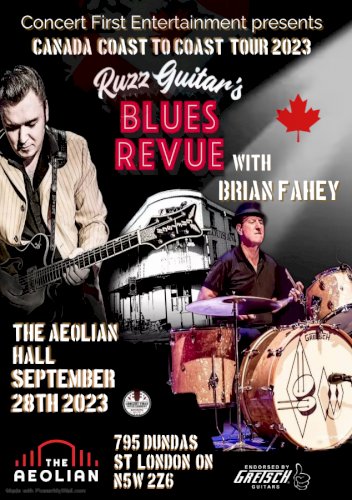 'Ruzz Guitar's Blues Revue' are one of the UK's premier, Big Band Blues sounds...Hailing from Bristol UK and lead by Gretsch endorsed guitarist Ruzz Guitar... Ruzz Guitar's Blues Revue brings together the multiple influences in Ruzz's musical journey and combines them into one project to create the sound that he's always heard in his head and wanted to capture live.
Bring together the Big Band Swing of The Brian Setzer Orchestra, blend it with the Texas Blues of Jimmie Vaughan and throw in a few other influences from artists such as B.B.King, Ray Charles, Gordon Goodwin's Big Phat Band and you'll get an idea of the sound that Ruzz Guitar's Blues Revue put out!
Ruzz Guitar's high-energy performance and Brian Fahey's (The Paladins) drumming skills will leave you tapping your feet and wanting more. Join the duo for a night filled with original blues tracks and covers of classic blues hits. The venue's intimate setting and exceptional acoustics provide the perfect backdrop for this soulful performance. Grab your tickets and get ready for an unforgettable night of blues music.
Ruzz Guitar is a joy to see and keeps this beautiful roots music alive and well"
Kirk Fletcher (The Fabulous Thunderbirds/Joe Bonamassa/Solo Band)
"That young man can pick! He tears it up like a pro and plays way beyond his years!!"
Paul Pigat (Cousin Harley)
Concert First Entertainment is a North American Artist booking agency. We are committed to meeting your needs.
Are you a touring band looking for more bookings in the best venues? Concert First Entertainment is here to help. We specialize in booking for bands in the live music industry. Our team of experienced music professionals will help you get your band booked in the best venues, festivals, casinos, corporate events, and more.Concert First Entertainment specializes in Blues, Americana, Rockabilly, Big Band Swing & Country Rock
Media Contacts
Concert First Entertainment Quebec, Quebec - G2A 2P7 Canada
booking@concertfirst.live
Category : Entertain­ment & Media
Tags : live, concert, blues, big band, bb king, rockabilly, The paladins, memorable, dance, gretsch, endorsed, fabulous thunderbirds, jazz
###
Log in or create a new account to comment