, 15 Apr 2023 (Viralpressreleases.com) - Fabric is a collaborative internet drive and AI search engine for your digital world. No more digital chaos. All your bookmarks, ideas, and files in one self-organising home. Available via web, Chrome extension and desktop app (MacOS and Windows).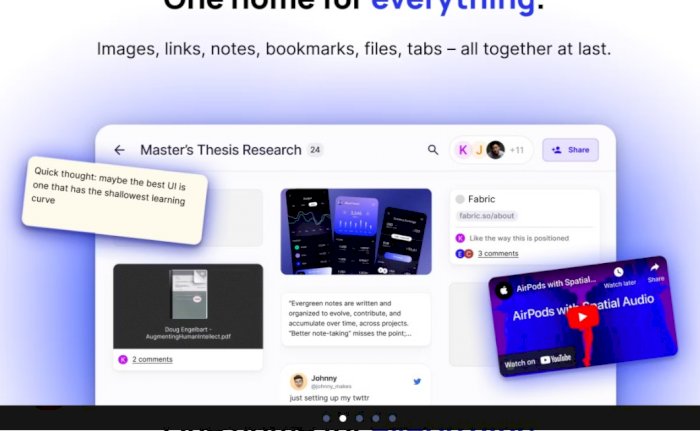 We built Fabric because we're all drowning in data.
Cluttered computer desktops, infinite screenshot folders, ancient file hierarchies, bookmarks we never look at... it's a mess. Sharing and collaborating is no better – content gets buried in group chats and emails, and the experience still feels disjointed and primitive.
Fabric is the start of something new: a unified productivity and collaboration layer, built on the internet itself.
It's your digital second brain – all your stuff in one place
Find anything again with AI semantic search
It's a fully annotatable filesystem, make notes for your future self
Collaborate on top of anything in Fabric, or in shared folders
You can even capture directly into Fabric, so you don't ever need to break your flow. Built for speed and minimalism. Life's too short to do digital tidying. Fabric supports markdown, can store any type of file, any piece of internet content. It's the first truly unified storage – files and internet content together. Designed for busy makers and thinkers like you! Move faster and think better. Together.