Shenzhen, Guangdong , 11 Apr 2023 (Viralpressreleases.com) - Silvercnc has released a new touch probe that is designed for high precision and high quality. The touch probe is made with good stability and is one of the best-selling probes in the China market. With this new release, Silvercnc continues its commitment to providing quality solutions for its customers.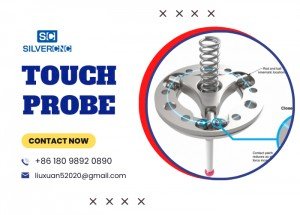 What is a Touch Probe and How Does it Work?
A touch probe is an essential tool for any CNC machine. It's used to precisely locate specific points on the surface of the material being machined, allowing the machine to accurately measure, align, and cut. If you're new to CNC machining, this guide will explain how a touch probe works and how you can use it in your projects.
What is a Touch Probe?
A touch probe is a device that consists of a stylus tip connected to an electronic sensing system. The stylus tip sits at the end of an arm that is mounted on the CNC machine's table or cutting head. When the stylus tip comes into contact with the material being machined, it sends an electrical signal back to the sensing system, which then records the position of the point where contact was made. This allows for precise measurements that are accurate down to fractions of millimeters.
How Does it Work?
The touch probe works by sending out pulses of electricity through its stylus tip when it comes into contact with the material being machined. The pulses travel through the material and are detected by sensors inside the sensing system which then record their exact position. This information is then sent back to the CNC machine's computer control unit (CCU), which uses it to determine precise coordinates for each point on the surface of the material being machined. The CCU can then use these coordinates to accurately align, measure, and cut with precision.
The Silvercnc touch probe uses advanced technology in order to ensure accuracy and repeatability even in challenging materials such as aluminum or stainless steel alloys. Its easy-to-use interface allows users to quickly set up and program their machines for each project without having to worry about errors or inaccuracies in their measurements and cuts.
Silvercnc offers three kinds of Probes including:
Infrared Touch Probe
The Silvercnc Infrared Touch Probe is a cutting-edge tool for high-precision measurement and detection. This robust, reliable gauge delivers quick and accurate results with 0.001" resolution. Its unique infrared technology allows you to accurately measure distances with confidence even in extreme temperatures ranging from -40 degrees Celsius to +120 degrees Celsius. Small and compact, the probe can be easily moved around various parts of your machinery for complex detection tasks. For reliable inspection and testing results, this touch probe is the perfect solution for designers, engineers, quality control personnel, and industry professionals alike.
Radio Wave-Touch Probe
The Radio Wave-Touch Probe by Silvercnc has revolutionized the way machines are used in manufacturing. This device is equipped with a wireless radio-wave sensor which can be linked to connected devices such as laptops, computers, or smartphones. When placed near a machine, it sends out a wave that records the distance and relative location of various features on the machine. This data can then be quickly transferred and analyzed for further use. The accuracy of this probe ensures that measures taken during production are exact and accurate, making it an invaluable tool for those dealing with complex machinery in their day-to-day operations.
Wired Touch Probe
The Wired Touch Probe from Silvercnc is a great tool for machining and engineering processes. This handy device helps users to accurately measure the contours of machined parts and components in a fraction of the time compared to manual measuring methods. It works by detecting contact between its tip and the surface of a workpiece, then sending this information back to your computer so that you can inspect it quickly and easily. Its compact design makes it easy to use in places where space is limited, while its wired connection ensures reliable communication with your machine at all times. With the Wired Touch Probe from Silvercnc, precision accuracy has never been simpler!
Using a touch probe is essential if you want your CNC machine projects to be accurate and precise every time. The Silvercnc touch probe makes this easier than ever before with its advanced technology and user-friendly setup process. Whether you're working with wood, metal alloys, or other materials, using a touch probe will help ensure that your projects turn out just as you envisioned them—every time! Now that you know what a touch probe is and how it works, you can confidently incorporate one into your next project for improved accuracy results!