Lago - the open-source alternative to Stripe Billing and Chargebee
Lago makes it easy to build and iterate on complex pricing.
, 03 Apr 2023 (Viralpressreleases.com) - We started Lago to help businesses grow their revenue faster, and one of the most impactful levers to growth is optimizing pricing. However, finding the right pricing is a matter of hundreds of experimentations, and billing systems are the main bottleneck to fast iterations.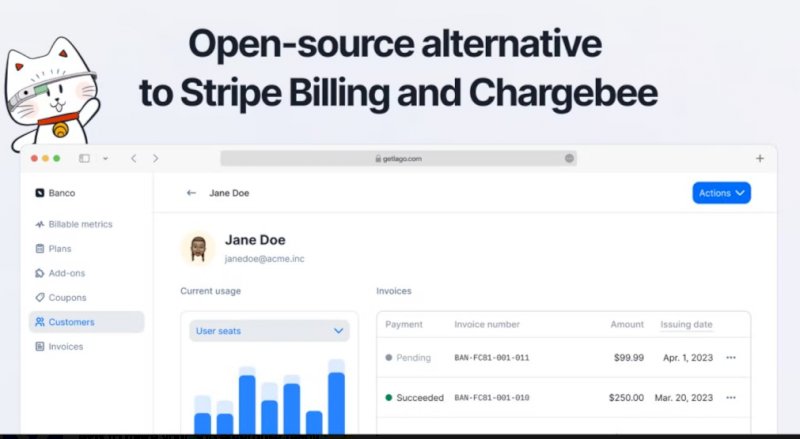 After owning revenue at a Fintech unicorn before (from pre-launch to $100M ARR), we learnt first hand that pricing optimizations were very much slowed down (when not stopped) by clunky billing systems. The problem is closed source systems like Chargebee and Recurly lack transparency, and Stripe tries to lock you into its payment processor and steep fees. But building and maintaining your billing system in-house is a huge pain, and small mistakes can break your business. This made no sense to us, so that's why we created Lago, the product we always wanted:
A complete and out-of-the-box developer-first billing platform: including usage-based metering, subscriptions, coupon managements, credit notes, and the ability to create plans for custom contracts
A beautiful and intuitive user interface, to cater to the business and finance teams, and their iterations on pricing
A customizable product: our architecture is made to fit any pricing grid (and the dozens of iterations that are bound to happen) and so that you can build on top of Lago, for your specific needs (and any growing business has specific needs)
An agnostic approach: you can use Lago with any adjacent tools you like: payment processors, quoting, CRM, internal tools
Open-source: so that engineers can look under the hood and fully understand how Lago works (Billing platforms can be a black box, while billing is a critical system, every team should be able to dig in and know how it works!)
We offer Lago as a cloud product "Lago Cloud" and you can also self-host and use it within your own infrastructure.
We love feedback, so comment with your feature requests and questions.
Media Contacts
Category : Science, IT & Technology
Tags : Lago, billing, online payment, app
###
Log in or create a new account to comment