Berlin, Germany , 27 Mar 2023 (Viralpressreleases.com) - "City Chicken", the original since 1996, is a popular fast-food restaurant founded in Berlin and is now well-known throughout Europe. We spoke with the owner, Ramtin Abdolmajid, about the restaurant's expansion and the opening of its fifth branch in the United Arab Emirates, as well as the already open branches in Vienna, Austria, and Bremen, Germany.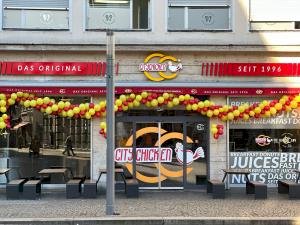 City Chicken's original concept since 1996 is simple: fresh, healthy ingredients and quick, convenient meals. The restaurant quickly made a name for itself and became popular with fast-food lovers worldwide. Ramtin Abdolmajid told us how he and his team developed and perfected the concept:
"We've always focused on quality and freshness," said Abdolmajid. "We use only the best ingredients to ensure our dishes are healthy and delicious. That's helped us stand out from other fast-food restaurants and build a loyal customer base."
City Chicken, the original since 1996, has quickly become a global company, and Abdolmajid has big plans for the restaurant's future. "We plan to open more branches in different countries," he said. "Our goal is to make our delicious dishes accessible to even more people and expand our business worldwide."
Opening the fifth branch in the United Arab Emirates is a big step for City Chicken. Ramtin Abdolmajid is confident that the restaurant will also succeed there. "We've worked hard to perfect our concept, and we're ready to take it out into the world," he said.
Berlin Sonnenallee

Berlin Spandau

Bremen Steintor

Vienna Favoritenstraße