Jining, Shandong , 09 Mar 2023 (Viralpressreleases.com) - CNMC has announced that it will manufacture trailer parts for construction and concrete machinery use. The company has a rich manufacturing experience in this field and promises to produce good quality machines at more competitive prices. With this new announcement, CNMC looks to solidify its place as a leading construction and concrete machinery supplier worldwide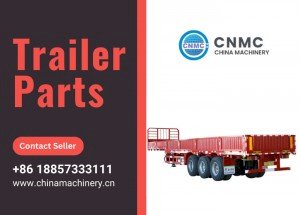 CNMC is proud to announce the launch of its new line of trailer parts designed specifically for construction and concrete machinery use.
The company has a long history of producing high-quality machines. This new line is hoped to help cement CNMC's position as a leading supplier of construction and concrete machinery worldwide.
Thank you for reading! We look forward to bringing you more news from the construction and concrete machinery world soon.
Exploring the Benefits of Using China Machinery for Trailer Parts
Are you looking for reliable and cost-effective trailer parts? China Machinery offers a wide selection of high-quality trailer parts to meet your needs. Let's explore the advantages of using China Machinery for all your trailer parts requirements.
Quality Assurance
At China Machinery, quality is always a priority. All our trailer parts are subjected to rigorous testing before they leave the factory. This ensures that all our products meet the highest quality and safety standards. Our team of experts develop, test, and inspect each part with utmost care and attention to detail; this ensures you get only the best when you purchase from us.
Affordable Prices
At China Machinery, we believe in delivering value for money. We offer competitive prices on all our products, so you can be sure you're getting a good deal when you shop with us. Moreover, we have an extensive range of trailer parts that fit different budgets, so no matter what your budget may be, you can find something suitable at China Machinery.
Wide Selection
No matter what type of trailer parts you need, we have them available at China Machinery! Our expansive selection includes everything from axles and brakes to jacks and tires; there's something for every need and budget here at China Machinery. Furthermore, if there's something specific that you're looking for but don't see on our website, just let us know, and we'll do our best to source it for you!
Side Wall Semi Trailer
China Machinery's Side Wall Semi-trailer is designed to handle the most demanding loads. Made from steel and other trailer parts, it increases stability on minor roads for better cargo protection. Composed of strong trailer frames and fastenings, it ensures that your trailer will last for years. Another great benefit is the reduced fuel costs due to its lightweight design. This trailer provides you with maximum safety and optimal efficiency while transporting your goods. With adjustable balance through its steel beam, this trailer provides great durability, ensuring the safe delivery of your goods.
Aluminum Fuel Oil Tanker Semi Trailer
China machinery offers a full selection of trailer parts for their aluminum fuel oil tanker semi-trailer, allowing you to customize the trailer to your needs. The trailer is designed for both long and short hauls. The trailer parts span from simple storage tanks and accessories to more advanced features such as axle configurations, brakes, tires, and air suspensions. Their trailer parts are easy to install and versatile enough to handle any road conditions thrown their way. Its unique design also offers superior stability during the load operation, so you can feel confident while on the road with Chinamachinery's aluminum fuel oil tanker semi-trailer.
When finding reliable trailer parts at affordable prices, look no further than China Machinery! We offer a wide selection of high-quality products that meet the highest safety and quality assurance standards. So if you need any trailer part – from axles to brakes – then head to our website today! With unbeatable prices and top-notch customer service, shopping with us is guaranteed to be an enjoyable experience!